COOLING SYSTEMS | CAR SERVICE & REPAIRS MECHANIC wagga wagga
Your vehicles cooling system including the radiator are critical components when serviced correctly it will enhance the life span of your car's engine.
Our trained technicians will electronically test the coolant quality and pressure test the complete cooling system for leaks also checking all of the hose clamps, the condition of all the hoses and the drive belts. Adjusting the tension of the hose clamps and belts as required.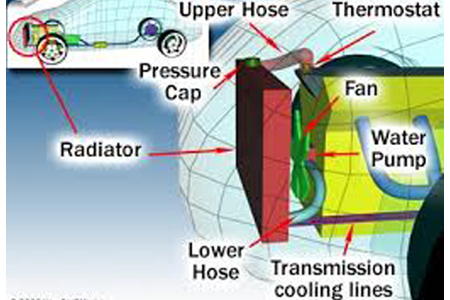 Also being a capricorn member, it widens our range of suppliers for parts, eg brakes, air conditioning, etc.
Cooling System Fluid Exchange:
Exchange, clean, and fill radiator with proper mixture of new coolant/antifreeze fluid
Inspect and pressure test radiator cap
Inspect belts and hoses for wear and deterioration
Inspect cooling system components
Extended-life coolant available
Helps provide rust and corrosion protection to radiator cooling system components
Cooling system services provide the following benefits:
Helps prevent engine over-heating during hot weather and in slow moving traffic – especially with A/C in use
Helps prevent engine freezing in cold weather conditions
Helps extend life of engine and cooling system components
Helps restore freezing and boiling point protection
Serv Auto Care Service automotive service and repair accreditations include:
Using only quality replacement parts for any genuine repair requirement, Serv Auto Care Service is a true dealership alternative when it comes to new vehicle log book service and mechanical repairs.
Established in 1995, the Serv Auto Care Service loyal car service and repairs customer base has been built through word of mouth and our satisfied clients come from throughout the local wagga wagga area.
The modern Serv Auto Care Service and repairs workshop centre is both owned and operated by head service and repairs mechanic Serv Auto Care Service who along with his highly qualified team of automotive repair technicians promise timing belt service including replacement, pulley, toothed, chain, change, alignment, water pump and timing belt repairs satisfaction.